Unleash the power of prevention
We create plans for self-funded employers that impact 75% of heathcare expenses.
What we see...
Hidden health risks
We analyze 96% of employees' blood data and 100% of their claims data to expose health risks and prevent high-cost claims.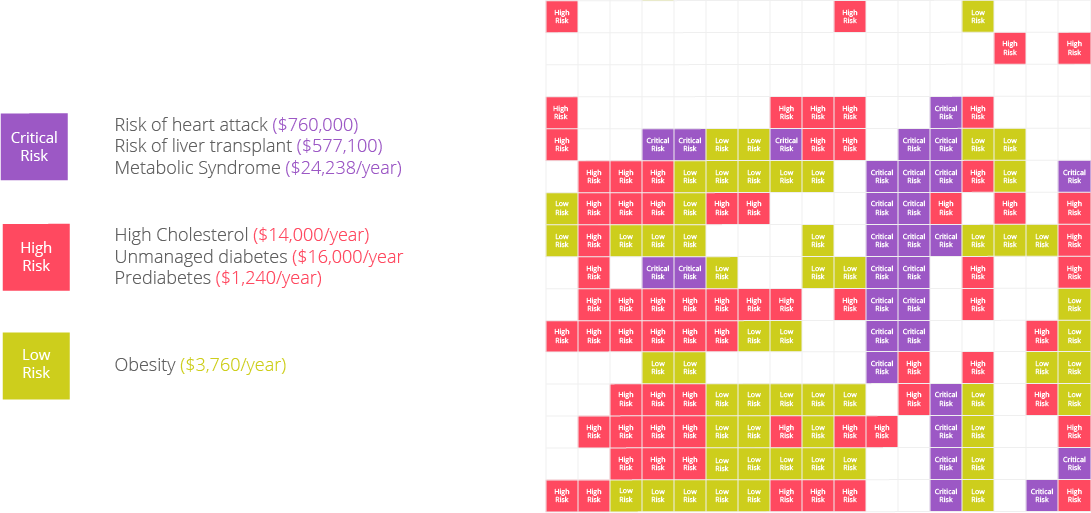 Healthcare costs decrease as health improves
Cost savings increase over time as Preventive Health Management (PHM) reverses health risks.
Custom plans for forward-thinking employers
1. Elevate your strategy
Analyze the data from your current plan to identify it's weaknesses and opportunities.
2. Control costs
Activate best-in-class cost containment modules to make your plan resilient.
IncentiCare
Pharmacy Benefits Management
Stop Loss
Disease Management
Care Management
Utilization Management
Predictive Medical Management
Direct Primary Care
Reference-Based Pricing & Custom Networks
Telemedicine
Fraud & Abuse Advocacy
Claims Repricing
Surprise Bill Defense
Mental Health Services
3. Empower employees
Provide deductible incentives to healthy employees and reduce the impact of chronic disease with preventive health management.

BeniComp in the news!
Past Press Coverage
2020 - May 4: My Health Guide: BeniComp Launches IncentiCare, Giving Self-funded Employers the Power of Prevention
2020 - May 1: California Business Journal: BeniComp is Taking Health Insurance "Where it has Never Gone Before"
2020 - April 16: Grit Daily: Health Tech Company, BeniComp is Thriving During COVID-19 Outbreak
2020 - April 10: Spectrum Bay News 9: BeniComp is hiring new employees
2020 - April 1: New Tech from Tampa Startup Predicts Health Risks
2020 - March 30: Tampa Bay Business Journal: Meet BeniComp Health Solutions - a 2020 Best Places to Work Nominee
2020 - February 20: Grit Daily: BeniComp's 'Knowledge'-Based Approach to Healthcare
2020 - January 23: Spectrum Bay News 9 Airs interview with Steve Presser: Top Cities Report
2020 - January 10: St. Pete Catalyst-- St. Pete Shuffle Recognizes Steve Presser, BeniComp's new President
2019 - November: St. Pete Catalyst-- Influencer Interview of Doug Short
2019 - August 23: St. Pete Catalyst-- Tampa Innovation Company Lowers Healthcare Costs for Workers, Employers
2019 - August 7: Tampa Bay Newswire-- A Tampa Health-Tech Company Launches Ground-Breaking Healthcare Solution for Employers
2019 - May 6: Tampa Bay Inno -- BeniComp Wants to Lower Health Insurance Costs with Preventive Care
2019 - March 27: Tampa Bay Business Journal-- Meet BeniComp, a 2019 Best Places to Work Honoree
2016 - August 10: Yahoo Finance-- Florida County Partners with BeniComp to Save over $650,000 in Healthcare Costs Over Three Years
2016 - July 11: Tampa Bay Times-- Health Insurance firm BeniComp relocates headquarters from Fort Wayne to Tampa
National Recognition
BeniComp has been featured in Forbes Magazine, Employee Benefit News, The Wall Street Journal, USA Today, Medscape and other publications for its innovative approach in providing solutions. BeniComp has been awarded the Best Business Practice of the Year by SHRM in 2007.