A forward-thinking approach to self-funding

IncentiCare is a complete group health plan that works with self-funded clients, and employer groups transitioning to self-funded plans.
We introduce health technology, preventive health management, and actionable data with our forward-thinking solutions.
IncentiCare Addresses Two Major Issues
IncentiCare addresses two issues simultaneously that have plagued employer groups for years:
rising cost of health insurance and increasing healthcare claims linked to chronic disease.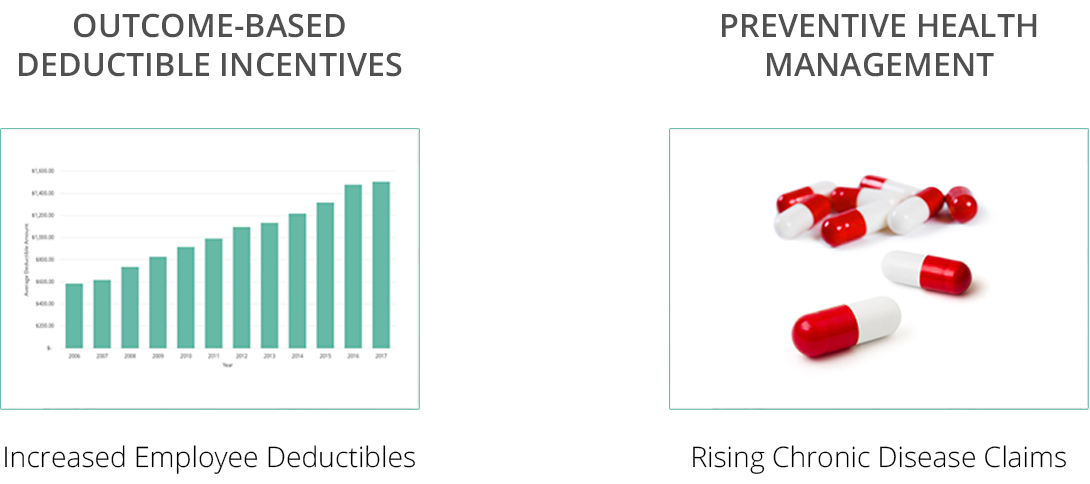 Expose your risks
Unique data sets spotlight the underlying financial risks of your current plan and the health risks of your employee population.
Customize your plan
Plug-and-play with best-in-class cost and cause containment solutions to address your organization's unique pain points.
Proactively manage your employees' health
Preventive Health Management helps employees prevent and reverse chronic conditions before a diagnosis is made.
Manage your plan on one centralized platform.
Pulse is our proprietary software built with intuitive technology to make health benefits simple for everybody.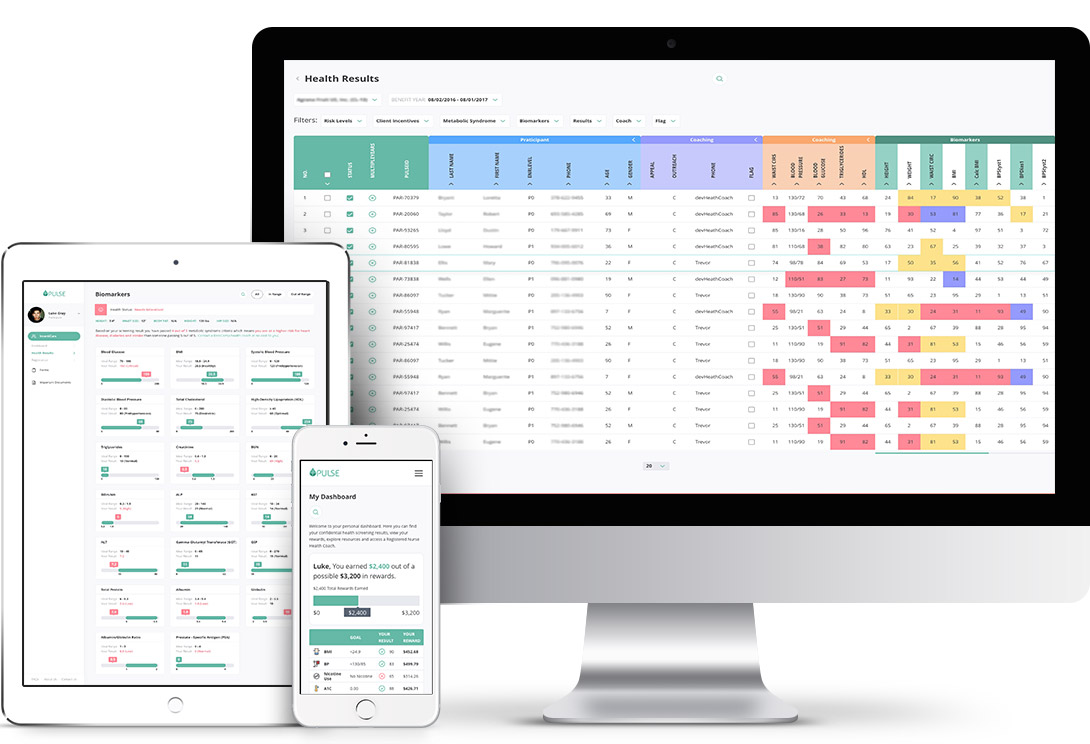 Predict. Prevent. Empower.
Overview | Outcome-Based Deductible Incentives | Preventive Health Management | Implementation
Overview
Unlike wellness products that have a 25-35% participation rate, IncentiCare achieves an average of 96% participation in annual health screenings by offering large, outcome-based deductible incentives.
Employees are able to earn thousands of dollars toward lower deductibles by simply participating in a health screening and meeting screening goals.
IncentiCare's core focus is Preventive Health Management, using innovative health technology and health professionals to provide participating employees and spouses with the necessary tools to accomplish lifestyle changes.
At-risk participants are identified through a deep data analysis of their blood work and claims reporting.
Proactive health coaching engages at-risk participants to improve health with lifestyle-based strategies.
Functional Medicine protocols are used to identify the root cause of claims, as opposed to traditional "diagnose and prescribe" methods, and eliminate costly chronic disease medication as well as future claims.
Outcome-Based Deductible Incentives
Employees control their own deductible by earning significant rewards linked to their health results. Outcome-based deductible incentives are placed on five health biomarkers in the blood that are controllable through lifestyle:
Body Mass Index (BMI)
Blood Pressure
Blood Glucose
LDL Cholesterol
Tobacco Use
For example, let's say employees start with a $5,000 deductible plan. By meeting biomarker goals, employees can lower their deductible by three thousand dollars and earn down to $2,000.
Large deductible incentives drive an average of 96% participation, allowing health professionals to identify and address risks on nearly the entire population.
At-risk employees are motivated to make lifestyle changes necessary to earn a lower deductible for the next plan year.
Large Outcome-Based Incentives and proactive health coaching ensures that employees make health improvements, unlike traditional, participation-based wellness programs.
Preventive Health Management (PHM)
Built on the premise that "knowledge is power", PHM puts actionable health information in the hands of participants.
We provide actionable data and clinical professionals to outlines the trajectory of an individual's health and empower the participant to proactively avoid health problems.
Our innovative health technology and clinical team of functional medicine professionals work hand-in-hand to engage participants and provide them with the personalized tools to control their health and live healthy lifestyles. PHM consists of five components:
Health screenings
Ongoing blood and claims analysis and reporting
Proactive outreach from health coaches
Functional Medicine protocols and oversight
Personalized health plans for at risk employees
With PHM, participants have reversed their chronic diseases and even come off of their medications. For more information, please read our clinical case studies.
Health Screenings
Employees must participate in a health screening to qualify for a lower deductible.
BeniComp coordinates the screenings, typically held at employer group sites for convenience and time efficiency.
Large outcome-based deductible incentives are rewarded based on the results of 5 health biomarkers captured during the blood screening.
Because the health screening is built into the design of the plan, IncentiCare achieves an average of 96% participation. This allows the Preventive Health Management team to identify and address health risks on the entire employee population.
BeniComp contracts with some of the top health screening companies in the country to provide quality phlebotomists, smooth implementation, and minimal employee issues. Each vendor is trained on the BeniComp screening protocols and credentialed based on professionalism, liability insurance, and references.
Blood and Claims Analysis
Strategic vendors are integrated into the BeniComp system so that laboratory results are received quickly, electronically, and securely.
Upon completion of the screenings, BeniComp's health professionals analyze each participant's blood data along with the corresponding claims data (if available), and provide individualized reporting to the participant along with aggregate reports to the employer group.
Health-risk visibility is often a huge motivator for employees to seek out our Preventive Health team.
Functional Health Coaching
BeniComp's team of Health Coaches proactively reach out to participants with out-of-range screening results to educate disease and discuss health risks.
Participants are offered one-on-one coaching sessions (covered by the plan) at no cost to the employee. This eliminates the tendency to avoid addressing health issues due to unknown costs.
BeniComp's Health Coaches partner with your employees to assist them in making sustainable lifestyle changes that will positively impact their health and help them achieve their goals.
BeniComp's Health Coaching team prioritizes your highest-risk employees in order to improve health, and prevent high-risk medical conditions from becoming chronic diseases and catastrophic claims.
Functional Medicine Protocols and Oversight
Prevent illness, reverse chronic conditions, and sustain optimal health by proactively addressing the root cause of disease instead of waiting on a diagnosis.
Our credentialed functional medicine professionals work one-on-one with employees to empower them with "lifestyle medicine".
Using their health data, participants are empowered to meet their health goals through a preventive plan that introduces personalized nutrition, exercise, sleep, stress reduction, and/or tobacco cessation strategies.
Implementation

One centralized platform means IncentiCare is easy to administer, and seamless to the employer groups and their employees.
BeniComp is an insurance provider and best-in-class TPA, parterning with the nations leading transparent cost-containment providers to bring you a solution that makes sense for your unique organization.
Get started with IncentiCare.
Your plan will include
A dedicated account manager to guide you though the implementation process.
Tailored file formats, transfer protocols, and timing to meets your specifications.
A customized plan design (based on data) that makes sense for your organization.
An incentive plan and an on-site health screening day for your employees.
Education and training on Preventive Health Management (PHM)
PHM claims approved to be paid at 100%. (Clearinghouse guarantee that these claims roll through your system as every other claim does.)
Setup of your invoicing and reporting workflow.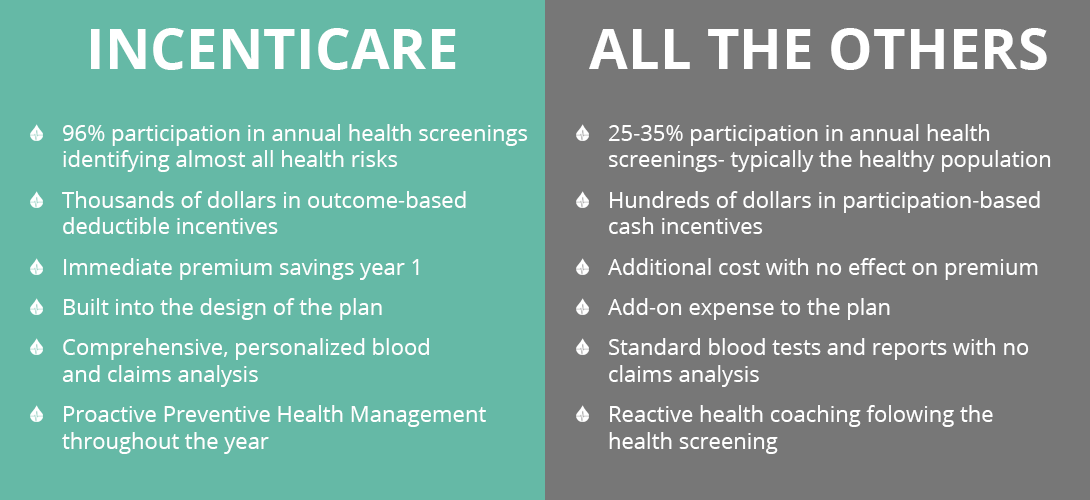 Do we have your attention yet?

Quote IncentiCare in one easy step.
Kieran Pittman
BeniComp Health Solutions
Director of Strategic Growth
(260) 469-2921
This email address is being protected from spambots. You need JavaScript enabled to view it.

* Policies are issued by Pan-American Life Insurance Company. Available in most states.